Meet Our Doctors
Dr. Christen Allaman, M.D.
Specialties:
Cataract Surgery, Lens Based Refractive Surgery for Myopia, Hyperopia and Presbyopia, Glaucoma, Diabetes and General Ophthalmology.
Dr. Christen Allaman, a Board Certified Ophthalmologist, completed his undergraduate studies at the University of California, San Diego. After receiving his Medical Degree from Columbia University, College of Physicians and Surgeons, he served a first-year residency in internal medicine at California Pacific Medical Center, San Francisco. Realizing his talents and international interests would be best served in the field of ophthalmology; he completed a residency at the Eye and Ear Institute, University of Pittsburgh School of Medicine. In 1996 he joined Keith McKenzie, M.D., in private practice at Eye Care Medical Group, Santa Cruz, California, and in 1998 became the corporation's president.
Dr. Christen Allaman is President and Medical Director of Cypress Outpatient Surgical Center ensuring that only state-of-the-art, compassionate care extends throughout his office and the operating theatre.
He has also performed volunteer cataract surgery and diagnosis and treatment of eye diseases in Bolivia, Fiji, Guatemala, and Nicaragua. When he is not taking care of patients, Doctor Allaman enjoys sports, particularly skiing and surfing. He also enjoys adventure travels with his family.
Dr. Allaman specializes in:
State-of-the-art (small incision, sutureless) cataract and phacorefractive surgery with presbyopia-correcting intraocular lens (IOL) implants.
Medical laser treatments.
Diagnosis and treatment of the glaucomas, including the newest treatment options available.
Dry eye care.
Macular degeneration management.
Second opinions.
Preventive comprehensive eye care.
Professional Accomplishments:
1994 Implanted first Intraocular Lens (IOL) Pittsburgh Eye and Ear Institute
1998 Implanted first Multifocal Lens First in Monterey Bay Area
2005 Implanted first REZOOM Lens First in Monterey Bay Area
2007 Implanted first RESTOR Lens
2007 Implanted first TORIC Lens
2008 Implanted first CRYSTALENS
2009 Center of Excellence Award by Bausch and Lomb
2009 Implanted first TECHNIS MF First Surgeon on Central Coast
2014 First to perform microinvasive glaucoma surgery with the Istent along the central coast
2014 Began to perform pterygium surgery with no stitches using biologic glue and amniotic membrane graft
2015 New generation of low add multifocal presbyopic correcting intraocular lenses
2017 First to implant the new extended depth of focus presbyopic correcting and astigmatism correcting Symfony lens along the central coast
Dr. ted A. Bailey, O.D.
Specialties:
Optometry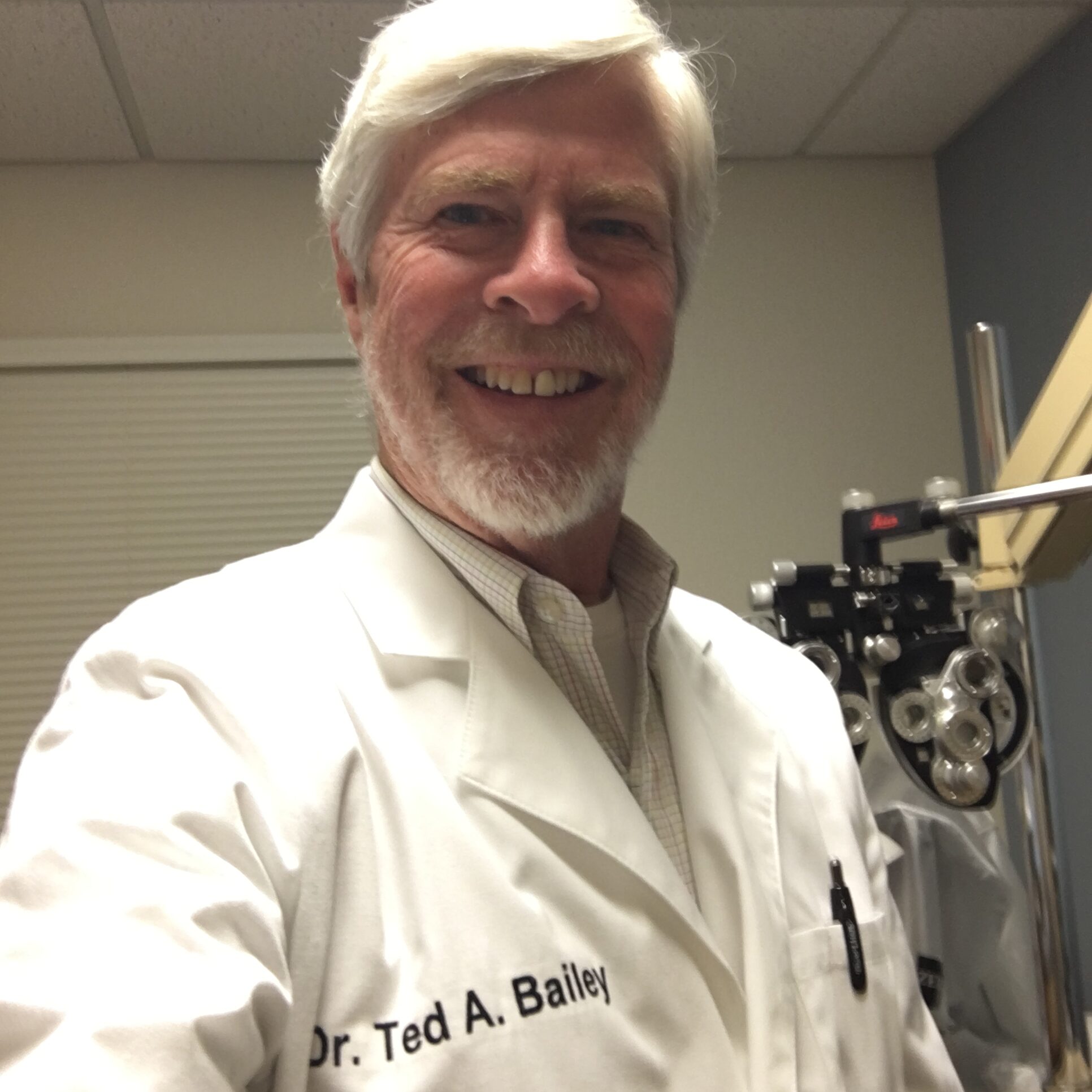 ---